Reviews from customers and communities
Here are some of the reviews from our customers around the world.....


Customer from USA with our latest version of RS MEGA+ :
"Everything is set up and running.  I will say, the biggest thing I love about this system was the set up.  After connecting everything, I fired up the computer, launched the SRS software, pointed SRS to the Thanos controller and off I went.  It really doesn't get easier than that."

Another customer from a very special place, the Island of Reunion :
"eRacing lab actuators are of exceptional quality. The system is Plug and Play: easy to assemble, pre-configured, quiet and responsive. The RS MEGA + pack is complete with an unbeatable price. I never could have thought that I could one day go into dynamics. It's done ! Thanks to eRacing Lab Team. 
Customer service is just as responsive as their actuators. Driving immersion is getting closer and closer to reality. The feeling is extraordinary.
Many thanks for all : quality products, quality service, quick shipping, best price"



Flying and Racing with RS MEGA+ from Norway:
"Overall I've been very happy with the RS Mega+. Using it with the SRS software, and it makes it easy to download profiles that already are in the ballpark, and only require minor tweaking to my taste. eRacing Lab, and Alex, have the best customer support I've encountered in years, answering all my detailed questions quickly, and genuinely seem interested in solving any concerns I had, also the ones that where not directly associated with the RS mega+. The actuators are strong even for my heavy rig, and has more than enough power to shake it violently if wanted. :) "







Customer from USA with RS MEGA+ and Traction Loss:
"Hello Alex and eRacing Lab team! I want to share progress of my build thus far.
First of all I would like to compliment you and the team for always communicating my status of my order, the instructions you sent were easy to follow and any time I had a question the response time is so very quick! All this while enduring a surge in COVID cases and lock downs.
The traction loss frame you designed worked perfect and the keeps the main rig very low to the ground. I love the red and black style of the actuators. I decided to keep all the platform black and still plan on adding red inserts for the extra touch of style. I built aservo enclosure with the ability to add more servos in the future.
I used to own a dof reality P3 platform but decided to sell it after seeing your webpage and start a complete rebuild on my motion rig. I'm so glad I choose eRacing Lab to use for my motion. I will recommend eRAcing Lab to anyone that asks. I plan on posting on social media some of these photos and send anyone who asks to your website. I still need to add plastic end caps and stickers to the rig but really wanted to thank you and team again for you amazing costumer service and outstanding products!
Thank you again and look forward to ordering more in the future and sending others your way!
Jxxx Txxxxx"











Customer from USA:
"I found these actuators after months of research on the internet. These actuators are in my opinion the best at this price point. The motion is quick and smooth. They were quick and easy to setup. I had it up and running in a few hours. The Thanos controller was easy to setup as well. I use SRS software and it really brings these actuators alive. The Aesthetics are also very nice looking. Also the people at E-Racing are so helpful and very quick to reply. They answered every question I had. I would recommend the Mega + kit to anyone getting into motion."



Customer from UK:
"After viewing various different options on the market for full motion systems, I found E-Racing Lab, which had great reviews from customers, but nobody had the full build. Most people seem to have opted for using four actuators, but I wanted 6 DOF for my build – I was coming from a Next Level Racing movement system, which has 4 DOF's so naturally I was looking to upgrade. I found the perfect option with eRacing (Lab) RS MEGA+ kit with traction loss and surge. The company were very efficient in the speed of ordering, shipping and answering any of my questions via email. They were very helpful in the design phase as I custom built the rig to incorporate their components. I found the set up to be super easy with eRacing (Lab) components as they have been set up and tested before shipping, so it really was a matter of plug and play, once Sim Racing Studio was installed. Overall, I really enjoyed the whole process of designing and building my Sim rig. The only thing I would change if I was doing it again is to start off with a lighter rig in the first place as the one I had is one of the heaviest ones on the market which makes it extra heavy compared to some of the more light weight frames.."


Customer's review on Sim Racing Group:
"Simply put, it is MAGICAL when tuned right! It feels LEGIT. The way the vehicle tilts and slams back down after going over a curb really feels like you're in a heavy automobile! The road bumps and drops feel like rubber tires on the suspension. The swaying of the cockpit left and right when turning at high speeds feels spot on (minus the g-force but it almost feels like it). I'm amazed at how it can even simulate traction loss or skidding tires when you're about to crash, as if the rig is drifting sideways. The movements are fast and match virtually perfectly with what's on screen. The forces are strong and even feels a bit jerky and dangerous if improperly set."

 




Customer's review on XSimulator Forum:
"The RS Mega+ kit on the other hand has been a dream the whole time. Worked out the box and never skipped a beat. Very silent operation, easy to setup and most importantly the entire system looks ROBUST. My shifter is louder than the rig so I love that. Lots of motion to break your neck if you want and the setup was super easy. I've been running the rig for a month now with ZERO problems."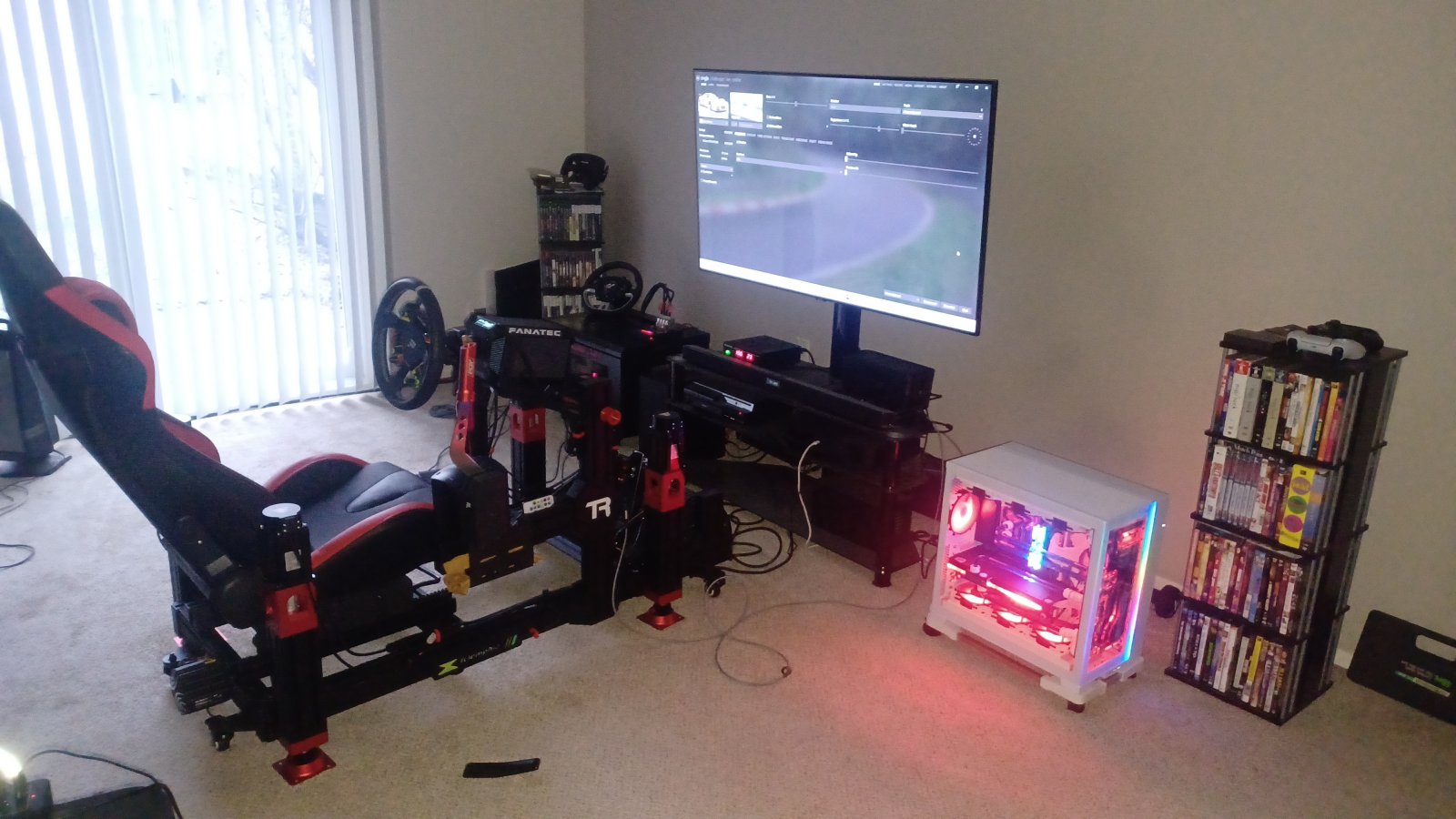 Customer's review from Sim Racing group:
"The E racing lab RS Mega + 3dof motion platform. It absolutely transforms the feeling and it's now very hard to think this is not real. I have removed the noisy buttkicker because there is no need for it anymore. Everything else is all I ever wanted."





Customer's review on Reddit:
"I absolutely love it and because it uses Sim Racing Studio there is so much you can do to tune it in and so much advice out there to help. I have different profiles for different games and cars which are easy to set up.
I wanted to go to motion for so many years but always felt the price for it was too high compared to the quality. This changed that. You get 150mm travel in the actuators which is more than enough and at a later point I can add traction and surge to it.
The team at eRacing lab were brilliant and even made sure it went through customs in a 'favourable' way which kept the price down as well.
I only had to buy the cabinet and a couple of mounting frames for the servos outside of what they sent and setup is pretty straight forward with wiring it up etc."