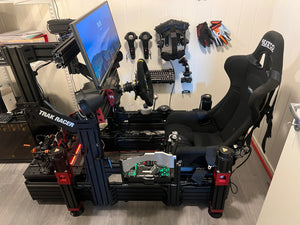 Flying and Racing with RS MEGA+ from 🇳🇴
Thanks to our customers in Norway for the kind words and sending the photos of his set up, using for both Racing and Flying!
Racing 🏎
Flying 🛩
"
Overall I've been very happy with the RS Mega+. Using it with the SRS software, and it makes it easy to download profiles that already are in the ballpark, and only require minor tweaking to my taste. eRacing Lab, and Alex, have the best customer support I've encountered in years, answering all my detailed questions quickly, and genuinely seem interested in solving any concerns I had, also the ones that where not directly associated with the RS mega+. The actuators are strong even for my heavy rig, and has more than enough power to shake it violently if wanted. :) "
---