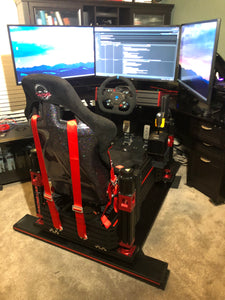 RS MEGA+ with Traction Loss in 🇺🇸
Thanks for the kind words from our customer in USA.
An other installation with our RS MEGA+ and Traction Loss kit.

"
Hello Alex and eRacing Lab team!


I want to share progress of my build thus far.
First of all I would like to compliment you and the team for always communicating my status of my order, the instructions you sent were easy to follow and any time I had a question the response time is so very quick!
All this while enduring a surge in COVID cases and lock downs.
The traction loss frame you designed worked perfect and the keeps the main rig very low to the ground. I love the red and black style of the actuators. I decided to keep all the platform black and still plan on adding red inserts for the extra touch of style. I built aservo enclosure with the ability to add more servos in the future.
I used to own a dof reality P3 platform but decided to sell it after seeing your webpage and start a complete rebuild on my motion rig. I'm so glad I choose eRacing Lab to use for my motion. I will recommend eRAcing Lab to anyone that asks. I plan on posting on social media some of these photos and send anyone who asks to your website. I still need to add plastic end caps and stickers to the rig but really wanted to thank you and team again for you amazing costumer service and outstanding products!
Thank you again and look forward to ordering more in the future and sending others your way!
Jxxx Txxxxx"
---