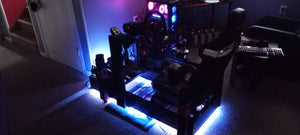 Another customer from 🇺🇸
Another awesome set up from USA 🇺🇸
And Thank You for the kind words!
"I found these actuators after months of research on the internet. These actuators are in my opinion the best at this price point. The motion is quick and smooth. They were quick and easy to setup. I had it up and running in a few hours. The Thanos controller was easy to setup as well. I use SRS software and it really brings these actuators alive. The Aesthetics are also very nice looking. Also the people at E-Racing are so helpful and very quick to reply. They answered every question I had. I would recommend the Mega + kit to anyone getting into motion."


---