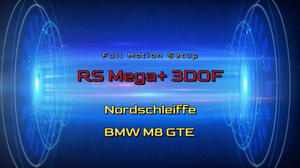 Perfect for Nordschleife
Another great video showing how the 150mm on the RS MEGA+ makes it possible to perfectly replicates the change of elevation at various location in this "Green Hell", while maintaining super tight and fast motion at the same time translating the details from suspension and road texture to the driver.

When combing VR with motion compensation, the 150mm enables a large range of pitch and roll angle, to match with the visual in the VR seamlessly. Taking immersion to the highest level!

Thanks to our customer in the USA for sharing this video. 
---